Persian Rug Cleaning Guide 2020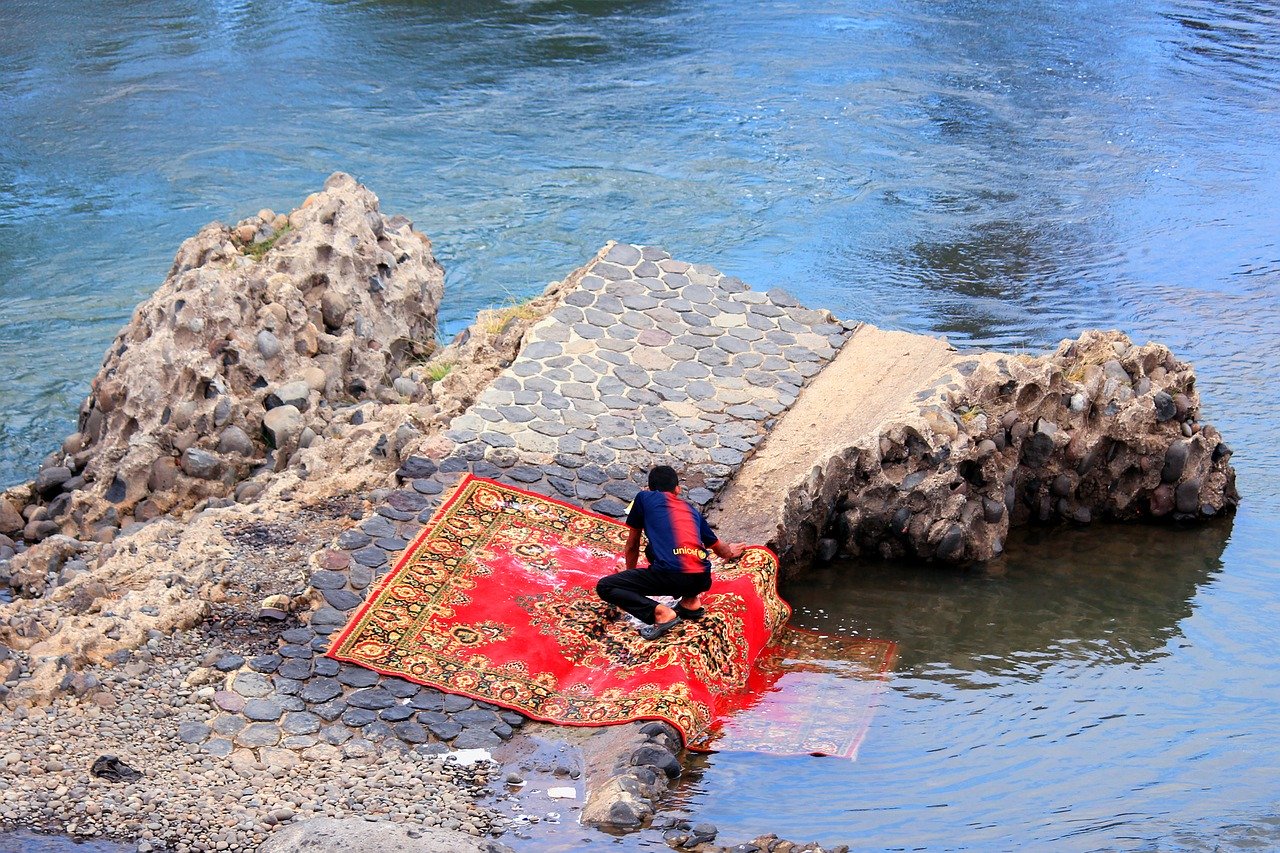 Can Oriental Rugs be Cleaned at Home?
Cleaning should be an ongoing practice done on a regular basis in your home. Unless your rug is very old or in a poor state of repair you can carefully vacuum and even shampoo it at home.
How to Clean Persian Rugs Yourself
Oriental rugs have a justifiable reputation for being extremely durable- but they are not totally indestructible! Carpets made of wool, a natural material, are quite easy to maintain provided that a few simple precautions are taken.
STEP 1 – Remove the grit and dirt with a carpet sweeper or vacuum cleaner by vacuuming the back of the rug first. The vibration from the beater bar will cause the grit and dirt to fall out of the pile and onto the floor below.
STEP 2 – Carefully flip the rug over and sweep up the grit first – then lightly vacuum the face of the carpet.
STEP 3 – It is always best to have a professional wash your rug but if you must shampoo, use a quality wool detergent and cold water to rinse (I personally use a hose in my driveway). Use a  good quality floor squeegee for excess water removal (a must). Do not attempt to clean your rug at home if you live in a humid or cold area – It is imperative the wool and cotton foundation are allowed to dry completely or you will have a mildew mess! If you allow your rug to dry in the sun, the dyes may run! 
STEP 4 – Be sure to take your shoes off before entering your home- this will save you lots of time and energy. 
Can Oriental Rugs be Steam Cleaned?
If someone asks to steam clean your carpet show them the door! The wool will shrink and lanolin (natural stain protector) will be removed. The dyes are likely to run. Your red rug will turn pink and so will the fringes. Never use heat! 
Can Persian Rugs be Dry Cleaned?
Dry cleaning is not an option. Avoid the more general carpet cleaning companies – their techniques and chemicals are not suitable for a one of a kind oriental rug.
Can Persian Rugs be Vacuumed?
Vacuuming is safe as long as your vacuum cleaner doesn't have extremely violent beater bars. Watch out if there are any loose yarns – they could be torn out and the foundation could be compromised. Vacuuming the back of the rug first is safer. If your rug is old and an antique, use a carpet sweeper or a brush. Take your time and go slow.  
Rug Maintenance and Preventative Care
MOTHS –

Protect your rug from damage by moths. Moths love to munch on dirty rugs! The dangers of insect damage are easily avoided by a combination of regular washing and the use of a moth proofer. Remove any furniture that stands on your carpet and vacuum beneath – moths look for dark undisturbed locations.

STORAGE –

If you wish to store your rug, always have it cleaned first. Then wrap it in polythene rolled against the lay of the nap and store it in a dry location.

REPAIRS –

When it comes to repairs, It is best to have a professional do it, but some minor repairs can be safely done at home. Fringes and binding that become partially detached can be carefully sewn back by hand. 
Any Questions?
If you are unsure about caring for or maintaining your rug, please give us a call and we will help you through. We are very passionate about these rugs and would hate to see an accident happen. Click the button below to give us a call.
Give us a Call